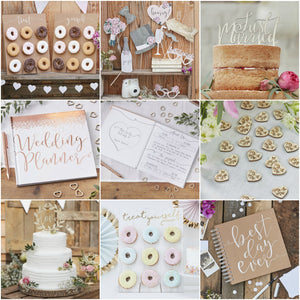 A Rustic Theme Wedding is simple, understated, and best of all has no fixed boundaries, so the couple can really have fun with their Wedding Planning while infusing their personalities into their Big Day. 
---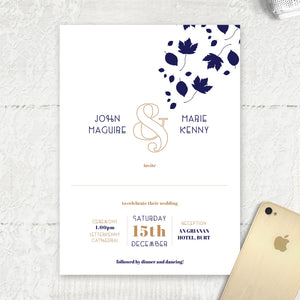 Autumn is a beautiful time of year to get married, the leaves are falling the colours are rustic, imagine the stunning wedding pictures, ah bliss..  But before all that you need to decide on the perfect Wedding Invites to send to your guests for your Autumn Wedding. Below we have picked out a few of our favorite Autumn Designs.  Above is our Autumn Leaves Design, which is an elegant yet chic invite. This invite can be accompanied with either a Kraft brown or plain white envelope.  Above is the Main Invite from our Lovely Lavender Collection. Lavender & Autumn just...
---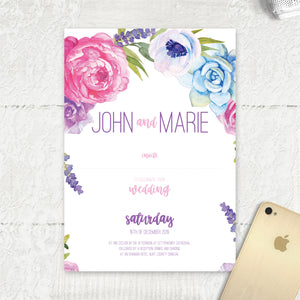 Planning a Summer Wedding ?  Below we have put together some of our Wedding Stationery Collections which would be perfect for your Summer Wedding. All our Invites are Designed & Printed in House. We have a wide range of Items available in each of our Designs, so once you decide on which Collection you like you can then run that design throughout your entire Wedding from Save the Date Cards to Wedding Welcome Signs, to Thank You Cards, giving a lovely flow to your Entire Wedding.  The Watercolour Collection is perfect if you are looking for a Vibrant, Eye Catching Wedding...
---
Congratulations If you are saying "I Do" in 2019. This year it is all about Coral & Floral. Living Coral has been voted the Pantone Colour of the Year for 2019  & when this beautiful vibrant colour is merged with the hot 2019 trend of Fab Floral Designs  you can guarantee your Invites will be both on trend & fabulous.  Here at Wedding Worx we design & print all our Wedding Stationery in house, so we can create exactly what the happy couple envisage for their Invites.  Above is the Colour Me Beautiful Main Invite. This Fab invite is very on trend...
---
A Personalised Wedding Welcome Sign will add that real wow factor to your Big Day.  The Signs can be displayed either at the entrance to your Ceremony or at your Reception.  Here at Wedding Worx we have lots and lots of Wedding Welcome Signs to choose from. There are the Beautiful Traditional & Rustic Designs. Below is our Burlap Lace Welcome Sign. We also have our more Modern Designs such as the Colour Bridge Welcome Sign. Some customisation may also be possible on certain designs for example the colour of the bridge on the design below could be changed to suit...